Week 15: Writing Movie Trailers
Movie trailers are advertisements for movies, and probably are the truest definition of "copy." They are a brief copy of what audiences will see in theaters.
Trailers were once shown at the end of movies, almost as an afterthought. Today, they are now shown online or at the start of movies (to ensure that audiences view them) and have a culture all their own.
Trailers consist of a series of selected shots from the film being advertised. Since the purpose of the trailer is to attract an audience to the film, the clips are usually drawn from the most dramatic, funny, romantic or other parts of the film.
Trailers range from 30 seconds to 150 seconds and are interspersed between voice overs and scene clips.
A movie trailer always strives to attain two goals:
to drive audiences to watch the movie in theaters or online.
to ensure the ending is not spoiled.
Formatting a Script:
Here's an example of a 30 second movie trailer time-sequence:
Intro monologue: 2 seconds
Closing music with call for action (release date): 3 seconds
When writing a script, please format your copy exactly as this sample copy, using capital letters to describe video scenes and italics to describe the voice over. Also be sure to indicate the scenes numbers and seconds as shown on the sample provided.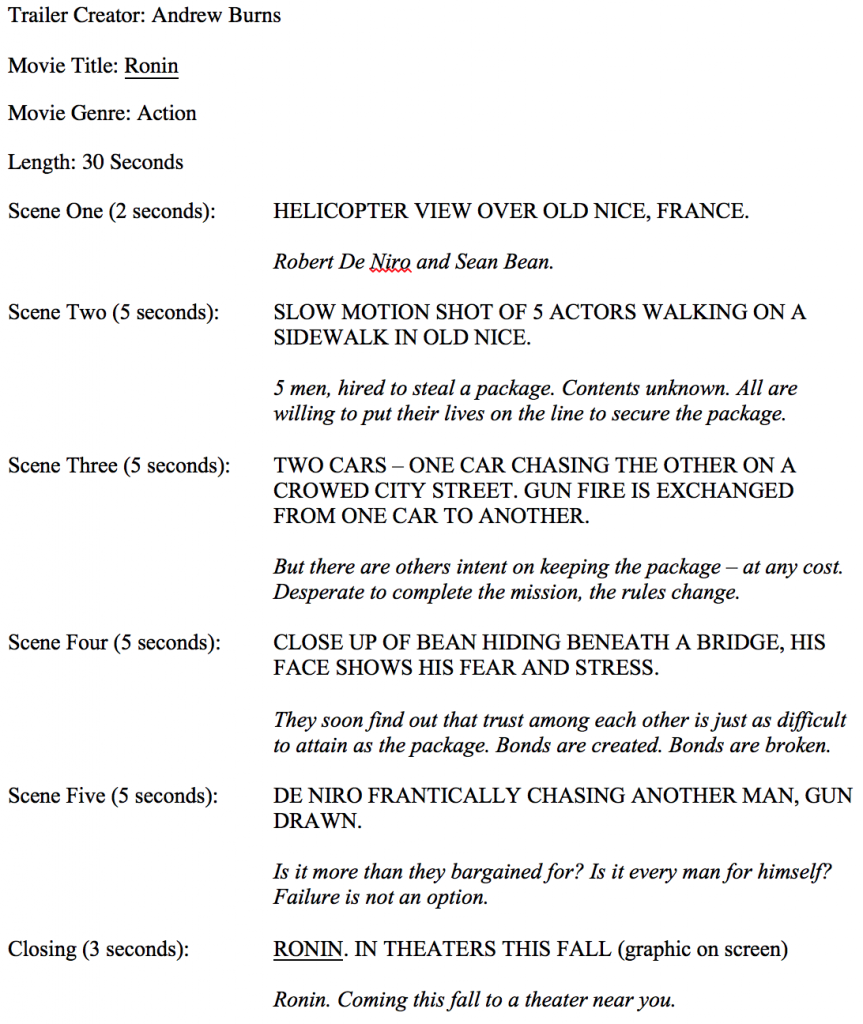 Your Assignment:
Write a 30 second movie trailer for any existing movie; we will not be creating the storyboard or filming the trailer – we are only writing the script.
Your trailer will also contain clips from the movie, but we will not hear from the actors in your trailer; the voice over will occur over all clips.
You should accomplish all of the following:
Please verbally tell me the movie you wish to use. I do not want two students in the class using the same movie as the basis for this assignment.
Create a new page and add the page to your lab work menu. Title the menu navigational link "12.3 Movie Trailer".
Determine the movie you wish to use to create the trailer. It should be a movie you know well, as it will make the assignment much easier for you. Make sure the movie is available somewhere online so you may use it as a reference for this project.
Using the same formula we used for radio script, you should write 7 – 8 lines of voice over script. This equates to approximately 30 seconds of voice over read-time.
Choose 5 scenes from the movie that coincide with the voice over script you created.
Note: You may not use any trailer scenes or words from an existing trailer for the movie you chose. You must use 5 unique scenes and write an original voice over script.
Do not plagiarize.