Week 11: Fake News Images
Mistakes, misrepresentations, and downright deceptions in photojournalism are as old as the practice itself.  The newspaper industry is deteriorating, giving way to digital media, and competition among freelancers is becoming more and more competitive.   Some professionals who feel that as standards are slipping, attempt to cheat their way to the top.
The LA Times published freelance photographer Brian Walski's photo on its cover, as did the Chicago Tribune and the Hartford Courant.  After the Hartford Courant published the image, a Courant employee noticed a duplication of civilians in the background. The Los Angeles Times confronted Walski, who confessed to having digitally merged the two photographs below to improve the composition. Walski was immediately fired for violating the newspaper's code of ethics.
Walski has not been the only photographer to manipulate images and fired as a result. Adnan Hajj, a freelance photographer, was found to have used Photoshop to clone and darken the smoke in this 2006 photo of Beirut to exaggerate the bombing damage, which is shown below.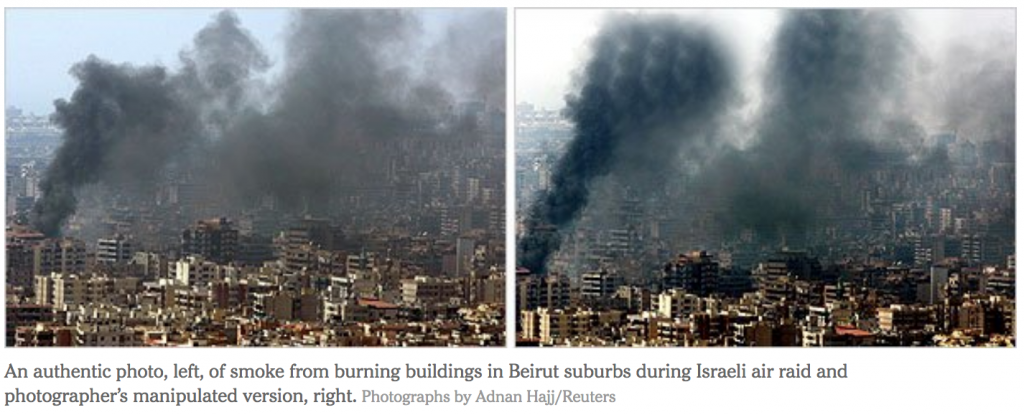 His photo was distributed throughout the media before the manipulation was caught by a reader. Reuters news agency immediately fired him. Reuters then withdrew all 920 photographs by Hajj from its database.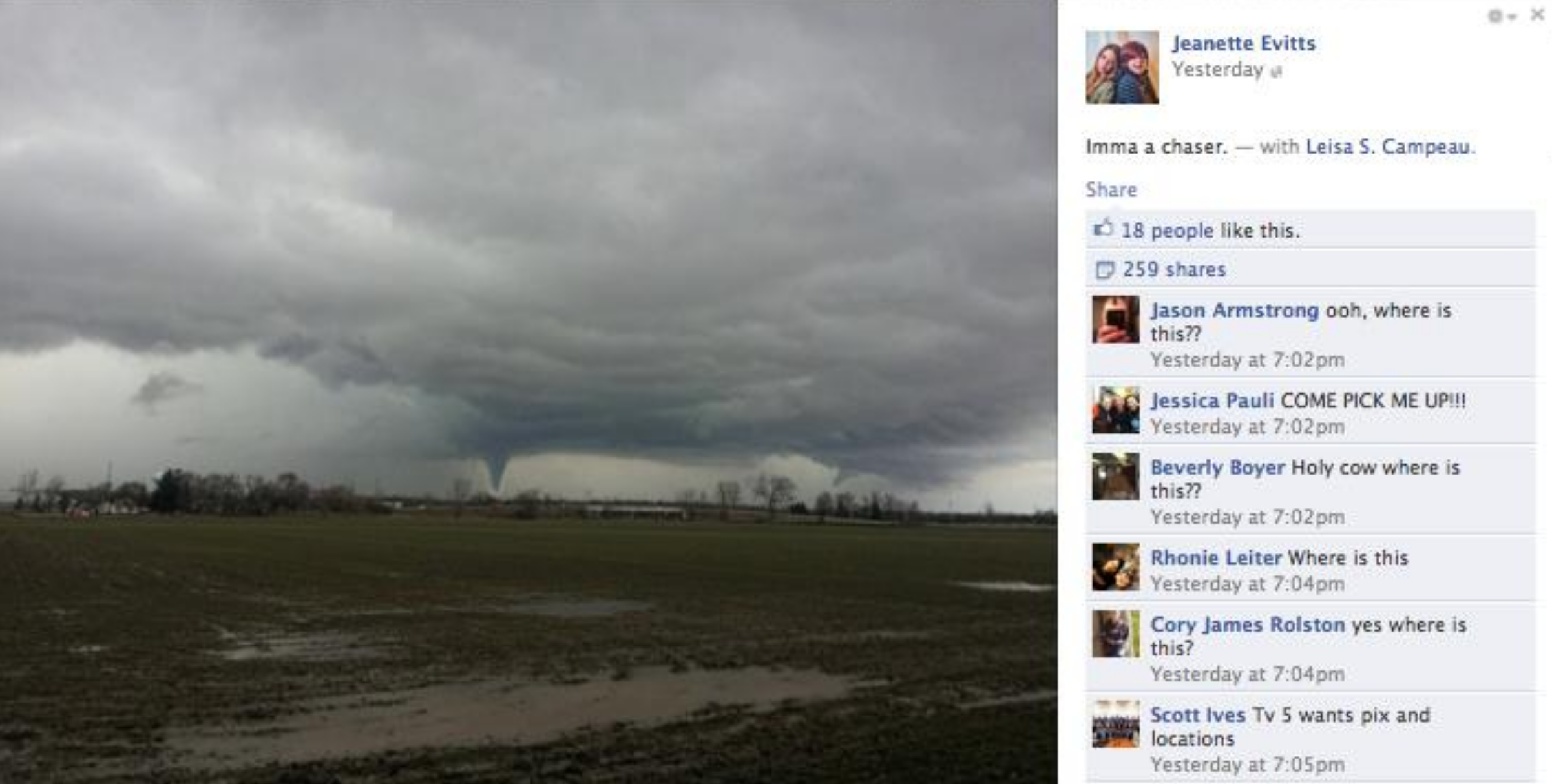 Media writers need to be careful using pictures from social media accounts. A graphic design student in Michigan posted on her Facebook page a photo of funnel clouds which she claimed was taken from behind her apartment. The photo quickly spread across Facebook and was ultimately picked up and broadcast on WNEM news. Afterwards, the student admitted that the photo was a fake, saying she Photoshopped that photo of the tornado.
WNEM news director Ian Rubin said that, "We've used this experience as a reminder to the whole news team to review (viewer submitted photos) with the meteorologists before they go on the air."
Lab Assignment, Thursday, Week 11:

This week I would like you to learn how others manipulate photos, not because I want you to necessarily learn how manipulate photos, but rather, so you are more aware of (1) how it is done, and (2) how relatively easy it is to alter photos. This is knowledge you should possess, because certainly the editor at the LA Times, Reuters, and WNEM did not have this knowledge.

Today we will learn to eliminate areas of photos (which is a great skill to possess) and how to the journalists noted above altered their photos.
To begin, enter the search term "The Trump Family" using a Google Images search to find the photo below. Then find a picture measuring at least 1000 x ?? pixels and download it.

Find a picture of you or someone you know. We will place your head on top of one of the people in the photograph.

Once you are finished editing your pictures, create a new page, title the page Fake Photos, post your edited photos on the page, and then add a menu item under "Lab Work" so I may see your work.
Once you are finished with editing these photos, please find a photo that you can add to your fake news article you created last class. Manipulate the photo in a manner you desire. Post both the original photo and the manipulated photo at the bottom of your article.