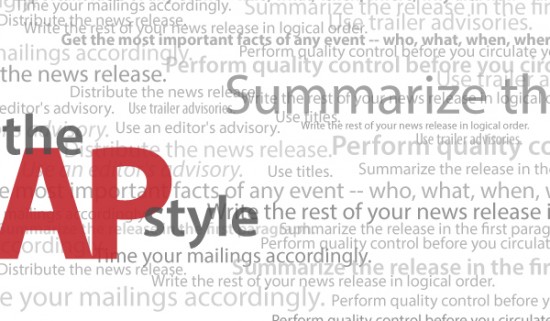 It is important that we stay consistent in the way we present our words and punctuation when writing for a publication like a newspaper. To remain consistent, we will follow the same  journalistic style in our writing that is used in the industry: AP (Associated Press) Style.
The AP Style is commonly accepted journalistic standards for usage, spelling, grammar and punctuation.  It is the standard style guide for most U.S. newspapers, magazines and public relations firms.
The complete AP Stylebook is lengthy and specific, but here are some of the more commonly employed rules.
Rules for Numbers:

S

pell out:

Whole numbers below 10
Numerals that start a sentence. Example: Twenty-seven detainees were released yesterday.
For large numbers use hyphen to connect word ending in y to another word. Example: twenty-one or seventy-six thousand

Use figures:

For 10 and above.
For all ages and percentages (even less than 10).

Rules for Time:

Time: a.m. vs. p.m.

Recognize "8 p.m. tonight" is redundant. Write 8 p.m. Monday.
Do not capitalize AM or PM. Example:

We have to meet at 7 A.M. for pictures

(no).
Use figures except for noon and midnight
Write time of day like this: 2:30 a.m. or 8:45p.m.

Days and Dates

Always use numerals without st, nd, rd or th in dates.
Avoid using yesterday, today and tomorrow (story publication could be delayed)
When writing about events use months and dates. Example: "April 30" and "June 5."
When referring to a month, day and year, set off year with commas. Example: 20, 1964, was the day they had all been waiting for.

Months

Never abbreviate months not immediately precede a date
Abbreviate only if month's name is six letters or longer Example: We got married in September last year.They were married Aug. 6 last year and divorced March 5.

Capitalization Rules

Compositions (books, movies, music, articles)

Capitalize the in title if that is the way publication prefers to be known.Capitalize first and last word of title.
Capitalize all words four letters or longer.
Do not capitalize articles "a," "an" and "the" OR conjunctions or prepositions, unless four letters or longer. Examples: The Elements of Style, Gone With the Wind, The Inquirer


People

Capitalize formal titles before a name
Titles after a name or standing alone are ALMOST NEVER capitalized. Examples: I saw President Obama; Dr. Hemmert, LSU president, attended the meeting.

College Courses

Do not capitalize the names of school subjects unless it is the official course titles or the name of a language: Examples: English (yes); math (no); Geometry 101 (yes).

Punctuation

Apostrophe

Use an apostrophe to indicate possession in singular and plural nouns that do not end in s. (boy's shorts, Margie's books, Francis' telephone).
Use an apostrophe to indicate omitted letters or numbers: '12-13 school year.
The possessive form of personal pronouns such as its and yours do not need an apostrophe.

Comma

In a series, use them before an "and".
Use one in a sentence after a conjunction IF the part of the sentence following the comma would be a complete sentence (it must have its own subject).

Exclamation point 

Don't use exclamation points. Use a period instead.

Semicolon

Use the semicolon to separate phrases containing commas, statements of contrast and statements too closely related.
Do not use a semicolon when a period would work just as well.
WEEK THREE, TASK ONE: AP STYLE WRITING

For this activity, you will consult "the journalist's bible," The Associated Press Stylebook and Briefing on Media Law. Please find the answer the 20 questions below using the Stylebook. Type your answers on a Word or similar word processing software, also noting the page numbers referencing those answers. Save your work as a Word document and submit on Blackboard under "Website Assignment (Week 3)".
Do you order Girl Scout Cookies or Girl Scout cookies (that is, with or without a capital C)?
Hyphenated or not: "a week-long event" or "a weeklong event"?
Are those emails from Nigerian princes examples of Spam (capitalized) or spam (lower case)?
When conducting research, should Wikipedia be used as a primary source?
Which of the following are trademarks and should be capitalized (if, indeed, they have to be used at all): Velcro, Frisbee, Breathalyzer, Styrofoam, Band-Aid?
When using the "microblogging platform" known as Twitter, does one Twitter or Tweet?
Is it correct to use tidal wave as a synonym for tsunami?
Which of the following may be used in an AP news story: ditto marks [〃], italics, brackets?
Arbitrate and mediate both appear in reports about labor negotiations, but only one of the terms calls for the handing down of a decision. Which one?
Which is correct: associate degree or associate's degree?
In a recipe, two cupfuls or cupsful?
Which of the following social media terms are acceptable to the AP editors: app, mashup, retweet, unfriend, click-thrus?
Do you visit a Web site or a website?
Does writer's guide need that apostrophe?
Which pronoun should be used in reference to a ship, she or it?
Which of the following words and phrases should be avoided (except when in quoted matter)?
Deaf-mute
Canuck
Coke (as a slang term for cocaine)
Handicap (in describing a disability)
Scotch (to describe the people of Scotland)
Is it acceptable to use the term "Obamacare" anywhere in a news story?
Is there any difference between an epidemic and a pandemic?
What does fulsome mean?
What is the difference (if any) between farther and further?
WEEK THREE, TASK TWO: REWRITING AP ARTICLES

The AP is owned by its contributing newspapers and radio and television stations in the United States, all of which contribute stories to the AP and use material written by its staff journalists.
Many newspapers and broadcasters outside the United States are AP subscribers, paying a fee to use AP material without being contributing members of the cooperative. As part of their cooperative agreement with the AP, most member news organizations grant automatic permission for the AP to distribute their local news reports.
The AP employs the  inverted pyramid formula for writing that enables the news outlets to edit a story to fit its available publication area without losing the story's essentials
.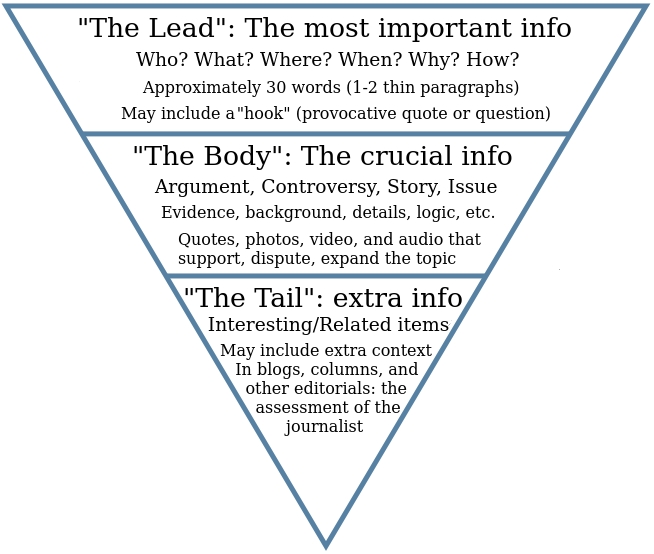 Original Version from lohud.com
NEW ROCHELLE – A New Rochelle High School student, who was stabbed Wednesday afternoon during an altercation in Dunkin Donuts, died at the hospital, New Rochelle police said.
The victim was 16-year-old junior Valaree Megan Schwach, the New Rochelle school district said in a statement. Police said she and a teenage boy got into a fight with at least six other teenagers in the Dunkin Donuts on North Avenue across from Iona College.
One of the teenage girls from the larger group stabbed the victim in the upper torso, according to police.
A suspect has been identified but not located as of early Thursday, police said. 
Schwach was rushed to Jacobi Medical Center in the Bronx, where she was pronounced dead. Anyone with information on the stabbing is urged to call police at 914-654-2270.
The victim had not been in school Wednesday, according to a statement from the New Rochelle City School District.
"New Rochelle High School and School District officials are cooperating fully with the New Rochelle Police Department in this matter," according to the statement. "The High School and District will make counselors, social workers and other professionals available for students and staff who require assistance for as long as is necessary."
The district also said police had investigated an alleged threat against New Rochelle High School that had been circulated on social media, but that the threat was unfounded.
---
A different version of the same story as above was picked-up by PIX11 and re-worded.
NEW ROCHELLE, N.Y. — Police on Thursday continue to search for the teenage girl accused of fatally stabbed a 16-year-old during a dispute inside a Dunkin' Donuts.
The victim, Valeree Shwab, a teenage boy and at least six other teens were in a fight just after noon on Wednesday at the store along North Avenue when another girl allegedly stabbed Shwab in the upper torso, lohud.com reports.
Shwab was pronounced dead at the hospital. Her accused killer fled the scene, officials said.
New Rochelle police have identified the suspected stabber and are on an active search for the teen. They are encouraging her to surrender.
Shwab, 16, was a junior at New Rochelle High School, according to school officials.
"Our hearts go out to all who have been touched by this tragic occurrence," the school stated on its website. "This is a devastating loss for our school community, and our deepest condolences go out to Valeree's family and friends."
Grief counselors will be present at the school beginning Thursday for anyone who needs help following Shwab's death.
Also on Thursday, the school district addressed a social media threat allegedly made against the high school following Schwab's death.
Administrators and police investigated and found the treat not credible, but extra police will be on campus to ensure everyone's safety, according to school officials.
"We are aware of a specific alleged threat against New Rochelle High School was circulated on social media. The New Rochelle Police Department, with cooperation from the District, investigated the alleged threat and determined it to be unfounded. Thank you to those who brought the matter to our attention," the school stated online.
I would like you to choose a news story first reported elsewhere and report it on your class website. Create a new page on your website and write the article that reflects that you read and incorporated the information contained in this page. Please follow the parameters below.
Find a news story no more than 48 hours old.
Once you have read the article rewrite the story in your own words.
Investigate. Add any pertinent details.
Provide a minimum of two pictures. You should determine the subject matter of the pictures. Make sure you

provide a caption for each photo.
give credit to the source of the photo.

Include a minimum of three hyperlinks:

one hyperlink should take the reader to the original news article (remember – no more than 48 hours old)
the remaining two hyperlinks should take your reader to outside sources of either related content or content that expands upon your article.

Once your story is complete, please add your new page to your menu.

Please label the navigational link under your "Lab Work" dropdown menu 9.19 News Beat Rewrite.
The title of your article on you website should be unique and telling. (Do not provide it with the name 9.19 News Beat Rewrite)
Finally, please do not forget to screenshot your work and submit it on Blackboard by Sunday at 11:59 PM.