Writing Radio Copy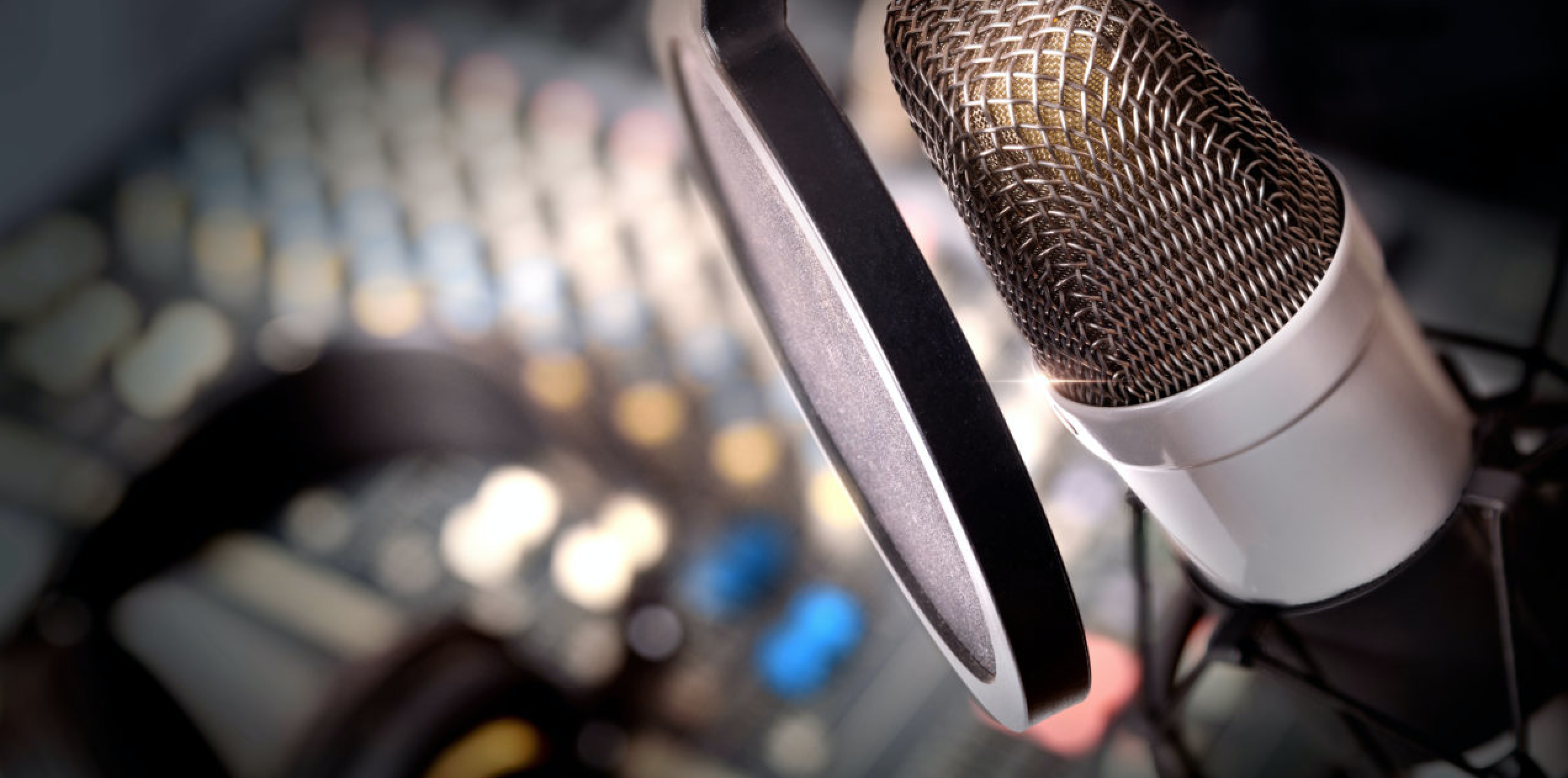 Radio commercials connect to audiences on a personal level. But how do radio commercials grab our attention? By using the  A.I.D.A formula: "Attention, Interest, Desire, and Action."
A.I.D.A Formula
First we have the 'Attention' segment. Here is where you write with an attention grabbing opening. It could be serious, humorous, factual, playful, historical, or whatever.  Don't forget that the average person is barraged with around 3,000 messages per day from various sources, so your goal here is to create something that is unique and get them to listen.
The next item on our list is 'Interest.' It should be organic – a natural, seamless, segue from Attention to Interest.  At this particular point you'll give some sort of payoff for following your Attention lead. Introduce the product or service here. Then, you'll use your words to provide the benefits of ownership. Don't forget to differentiate between features and benefits. 
Now comes the 'Desire' element of the AIDA formula. Now that you have the customer's attention and interest, you now create an emotional element of desire. A sense of the customer saying, "I need to have this and have it now." Here you'll build upon the benefits you wrote about earlier or use a new benefit entirely. The Interest and Desire sections often complement each other. Be sure to remember, the focus of your writing is always about the customer's desires, wants, and needs – not yours.
Next we wrap up the business by using the 'Action' part of the formula. You want the customer to take some sort of action. Whether it's calling a toll free number for more information, checking out a website, going to the store, these are all calls to action. Don't lose out by not asking for the business.
Most prominently, we listen to the radio in our cars. Advertisers are able to target specific times the ad will air.
Generally, the morning drive is 6am to 10am, and afternoon drive is 3pm to 7pm. (The other radio times are mid-day, 10am – 3pm and evenings 7pm to midnight). This will be a factor you will need to consider when creating your ad.

Aside from just writing the spoken script, other aspects to consider when writing radio commercials are
sound effects

voice talent

music beds
Sample Copy:
Creator: Sven Hemmert
Client: Dominican College
Title: Procrastination Open House
Selling Point: Many Options to Help
Length: 30 Seconds
Drive Time: Morning Drive 6:00 a.m. – 10:00 a.m.
piano music builds then female voice) PROCRASTINATION. IT'S WHAT STOPS YOU FROM GETTING AHEAD. IT'S THE VOICE THAT SAYS, "WAIT UNTIL NEXT YEAR TO GET THAT DEGREE." STRIKE IT FROM YOUR VOCABULARY. DOMINICAN COLLEGE'S DIVISION OF GRADUATE AND CONTINUING EDUCATION CAN HELP. OUR UNDERGRAD AND GRADUATE DEGREES, CERTIFICATES, AND ONLINE OPTIONS HELP TURN PROCRASTINATION INTO ACTION. LEARN MORE AT OUR OPEN HOUSE, WEDNESDAY, AUGUST 11TH FROM 4:30-7:30. LOG ONTO D-C DOT EDU. THAT'S D-C DOT EDU. (piano music fades)
Your Assignment Tuesday:
A client (to be determined by you) has asked you to create a 30 second radio copy, which means your ad should have 7 – 8 lines of about 60-70 words. Your client's production budget is one thousand dollars (not a lot of money for creating copy). Consider this budget when creating the copy. In other words, please don't create a copy with Beyonce singing the theme song, or advertise an automotive repair shop offering free repairs. Be realistic.
It is up to you to determine:
Begin by creating a new page, giving it the same title of your title of your advertisement. Place this page under your lab work drop down menu, and call it "10.1 Radio Copy".


Create radio copy using the A.I.D.A. formula related to your website's theme. Be sure to include all the information in the example copy above in red font.

The client: you have complete freedom to advertise whatever business, product, or event you would like.

The selling point: ensure you determine the selling point and stress this selling point in the advertisement.

The drive time: the client is also giving you complete freedom to determine the drive time the commercial will air, so please align your client's business, product, or event with the most appropriate drive time.
Writing Television Copy
TV commercials are not like other media, such as print or websites. A reader browsing a website has plenty of time to absorb information and can even reread copy that is interesting or informative.
However, TV commercials happen in real time. Most commercial spots run 30 seconds. That's all the time you have to tell the viewer about whatever you're selling.
Although advertiser will run commercials more than once, you shouldn't rely on repetition to get your message across. It should be clear and complete even if seen just once.
The commercial must introduce the brand quickly and give viewers a reason to go to the store or use the service.
So how do copywriters create commercials? They use three distinct steps.
Develop a concept.
Write the script.
Create a storyboard.
After the three steps above, the commercial is passed on to the film crews.
At the top of the page is a Coke commercial that aired on television when I was a kid. Below is the script that created that commercial.
Notice:
The left column represents camera shots and action. (A list of camera shots are listed following the script).
The column on the right represents the audio and actors' lines. Words are written as spoken in natural speech (i.e. yeah instead of yes, un-uh instead of no, etc.)
The columns are hierarchical, meaning you should read the columns from top to bottom,  alternating columns in a descending fashion.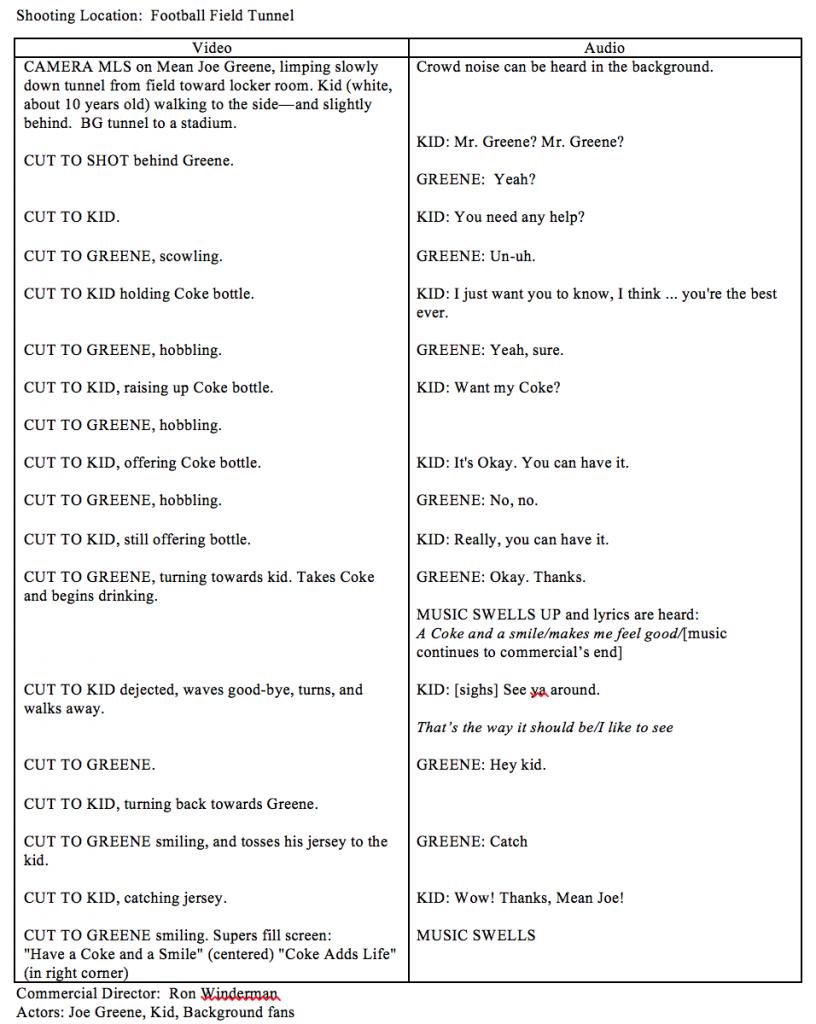 The audio and video actions are noted in the script above. For the music, it is rather simple: fade in (or swells) and fade out. For the video, a list of the camera shots are listed below.
Kinds of camera shots
Camera framing

Extreme long shot
Very long shot
Long shot
Medium shot
Close-up shot
Extreme close-up shot
Two shot
Over-the-shoulder shot

Camera angles

Front view
Profile
Back view
Eye-level shot
High-angle shot
Bird's eye shot
Low-angle shot
POV / subjective shot

Camera movement

Zoom shot
Pan shot
Arc shot
Tilt shot
Pedestal shot
Tracking shot
Dolly shot
Assignments Week Six:
Assignment One: What I would like you to learn is how scripts are created to build the words and images so they deliver a clear, complete message in just 30 seconds to get a sense for how local TV commercials are put together.
Begin by adding a new web page to your site named TV Copy. Place this new page under your Main Menu.
Create a two-column table on your newly created TV Copy page.
Prepare an original two-column script. Your script

should be realistic. However, it may be humorous, serious, or whatever tone you choose.
should last exactly 30 seconds. This means that if it takes longer than 30 seconds to read the dialogue, you will need to trim some of the actors' lines.
use camera shots listed in the table above.

Finally, please screenshot your work and submit it on Blackboard by Sunday at 11:59 PM.
Assignment Two: Last week you completed the preliminary work on your feature story. This week, please put together your final draft of your feature story. It should
be 1,500 words and address the 5 W's and H
contain at least 4 of the 7 photographs you gathered last week. Please caption each photograph.
illustrate your understanding of ledes, the inverted pyramid, proper grammar, APA conventions, and all aspects of writing for the web.
contain quotations from 1 or 2 people that you have interviewed for your story. The number of quotations is left to your discretion, but they should be used sparingly. (Perhaps 250 – 300 of your 1,500 words will be attributed to quotations; this is just a rough estimate for you to go by).
include a list of references beneath your article in APA format that indicate the sources used to compose your feature story.