New Additions to Autumn Breezy
One thing I love so much about making planners is that I get lots of organization and planning tips from other people. They tell me what works for them and I take it into consideration to see if it also works for me. Some people even send me what they have to see if I can do anything like that.
I've created two new pages, I guess you could say, for my planners. They're technically pages, but I call them dividers because they're not full sheets of paper. They're smaller strips that go between the days that are moveable in case not everything is completed or you always need an at-a-glance page. These new pages are mentioned at below:
The Quote-To Do Divider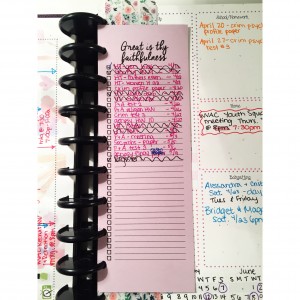 Anyone who has an Autumn Breezy Planner knows that I love filling them with inspirational quotes. It's a pick me up and something different than just your typical planner page. It adds a sense of fun, but I also hope it inspires you to do something good. My aunt is a mother of 5, so she has a lot of her plate. She's the creator behind has the Jennifer style planner (hi Aunt Jen!). I loaded her planner with tons of quotes, but she told me she needed something that she could take page to page with her. Sticky notes worked, but they weren't going with the Autumn Breezy motif. So she suggested a removable To Do List. And I listened!
I have to say: I wasn't so sure about it at first. I didn't want to take away from the planner pages, I did not want to get rid of the quotes, and I was also afraid that two smaller pages between the weeks would be too much. I'm not sure about other AB Planner owners, but I really love all the quotes. After chatting with her a little longer, we talked something out and we decided that I didn't have to give up the quotes if someone asked for a To Do Divider. The quote would be on the top and the to do would be at the bottom. This suggestion worked amazingly. I now have the Quote-To Do Divider in my planner and I really have to say, it's very helpful. I've retired the just quotes and now only use the divider.
Hydration Divider
The next addition to Autumn Breezy Planners is the Hydration Divider. After a stint of what seemed like kidney stones and quite a few stomach bugs (ugh! Nothing worse!), I decided that it would be important for me to start drinking more water and to get healthier. I'm not unhealthy, but I'm not necessarily healthy. But hey! This is a start!
This Hydration Divider is still in the process of being made, but it's going to happen soon. I want to keep track of how much water I drink a day, how much I've walked, and what I ate. It'll be something very basic for me with those three things on it, moveable from page to page, and can be customized to what other people need as well.
I hope you all like these new additions!
Happy Planning!