This past Saturday I attended a craft fair in Teaneck, NJ. It was a fundraiser for a little boy named Luke who has a form of childhood cancer called neuroblastoma. Half of the event was a vendor event where about 30 vendors rented tables and sold their items. The other half of the event was a meet-and-greet for the kids. There were dress up characters from many different Disney movies, photography with those characters, fun food, a tricky tray raffle, and other fun activities for the adults and the kids.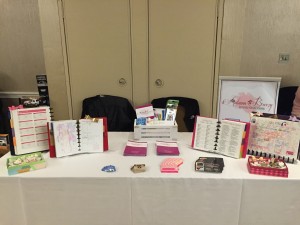 The first thing my friend Olivia and I did when we got to the venue was set up our table. We were table 2, so we didn't have to search too far for anything. I brought 6 planners with me and only had 4 stands, so we were able to set everything up in a nice and non-cluttered way. The image to the right is our table set up.
I was very excited to show off my new banner at this event. It's the one located in the back right corner of the table. It's quite the upgrade from the paper one I had at my last shows. This one rolls up into a metal case and just pulls up when you want to display it. I had a lot of run opening and closing it.
I set up my table with my planner, my friend's planner, a wedding planner, and a planner that was purchased at a previous event that was being picked up that day. I was really pleased with my layout, especially the table cloth, as silly as it sounds. Most events don't provide tables, let alone table cloths, so I was very excited to see a cloth tablecloth…not a plastic one. This was a win.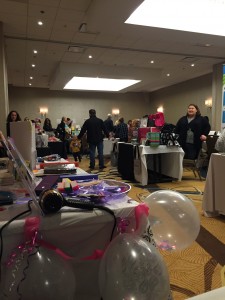 The vendor portion of this event was located in a very nice conference room in a very nice hotel. I was actually told that the Giants stay in this hotel the night before one of their home games. Pretty fancy, I'd say! In the image to the right, I took a picture of the rest of the vendors. Right next to us was JamBerry Nails. They had fantastic balloons that I'm going to make for my next event, whenever that will be. Across from us was a doctor who was selling his own diet plan, there was a jewelry company called Keep Collective, PickALS, which sold pickles who's profits went toward ALS treatments (one close to my heart), and quite a few very unique tables as well.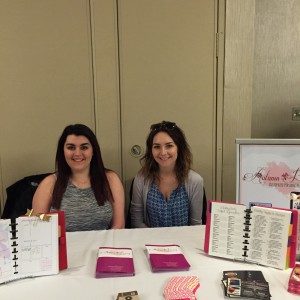 Olivia and I sat for about 5 hours on Saturday. We chatted with other vendors and laughed at the many cute things that little kids say. Luckily, we brought quite a few snacks and enjoyed some gossip.
This last image is a shot from the table between some planners. I started having a lot of fun trying to get some creative pictures between the planners and everything else from my set up. This one was my favorite.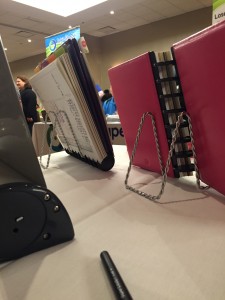 Unfortunately, this wasn't a very profitable vendor event, but it's okay. I sent out quite a few brochures and business cards, and had a couple very interested people standing around my table. This event was for the children and that's exactly what it turned out to be. The Teaneck PBA raised $2,500 for Little Luke. I'd say it was an accomplishment in that sense.