Generation Z (mid 1990's – today) lives in a tech savy world, where information is transmitted worldwide in seconds. In a fast moving society, it is not surprising that old media news sources, such as newspapers, television news programs, and radio, are yielding to new media sources.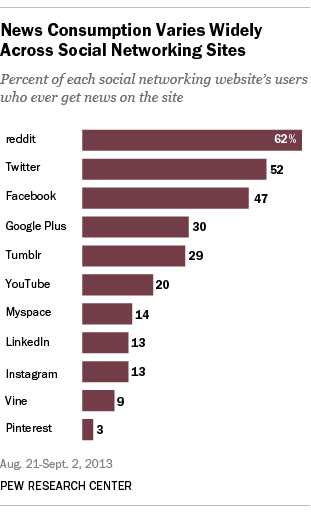 News consumption in the U.S. has drastically shifted over the past ten years. Pew Research shows that 30% of the U.S. adult population receives its news from Facebook. Other new media sites U.S. adults turn to for news are YouTube (10%), Twitter (8%), reddit (2%). In totality, half of the U.S. population turns to new media for news.
Advertising revenue has decreased for old media news sources, as advertisers direct their money towards new media sources. In fact, between 2006 and 2009, the newspaper industry declined 44.26%. (source)

This class is designed to introduce you to new media and provide you with hands-on experience reporting on events across several interconnected new media platforms.
Lab Assignment Week One / Day One:
Locate 4 blogs related to the beat you are covering. For example, if your beat is sports, you may wish to locate ESPN blogs on any sports genre (baseball, football, etc.) to see how a sports blog is covered. Analyze these blogs. What topics does the blog cover? What tone does the author use? What do you like/dislike about the site layout? E-mail the 4 links to me at andrew.burns@dc.edu in a proper e-mail as follows:
complete the subject header of the e-mail
write 4-6 sentences telling me about your beat
indicate your audience demographic
create a brand name and hashtag you will use on ALL social media
channels unique to your beat
include clickable hyperlinks to 4 websites
indicate in 2-3 sentences what it is that you like about the website
sign your name to the e-mail
Here is a sample email
that I find effective at responding to today's task.