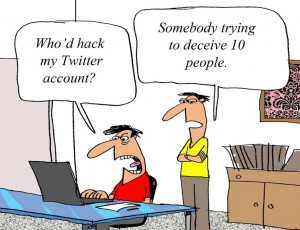 Required New Media Apps this Week:
You will need a Twitter account starting this week. You will need to create a new Twitter account for this class (do not use an existing personal Twitter account). Whether you are a Twitter veteran or just beginning, please look at Twitter's User Guide.
Required Readings this Week:
If you think the number of hashtags you use does not matter, the time you Tweet is irrelevant, or whether you abbreviate "RT" for "retweet" makes no difference, think again.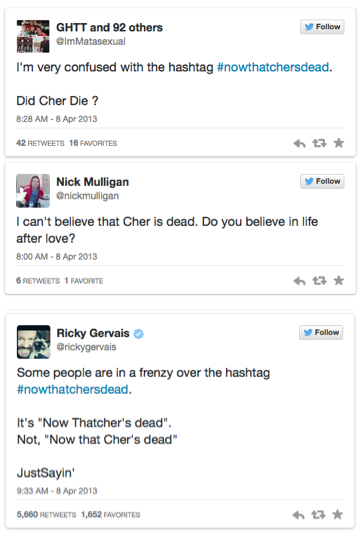 Please be cognizant of effective use of hashtags. As you see in the infographic above, more than two hashtags has a tendency to reduce engagement.
You should also know how to write a good tweet. The tweet on you left had believing Cher died, but the original hashtag really referenced Margaret Thatcher.

Anatomy of a Proper Tweet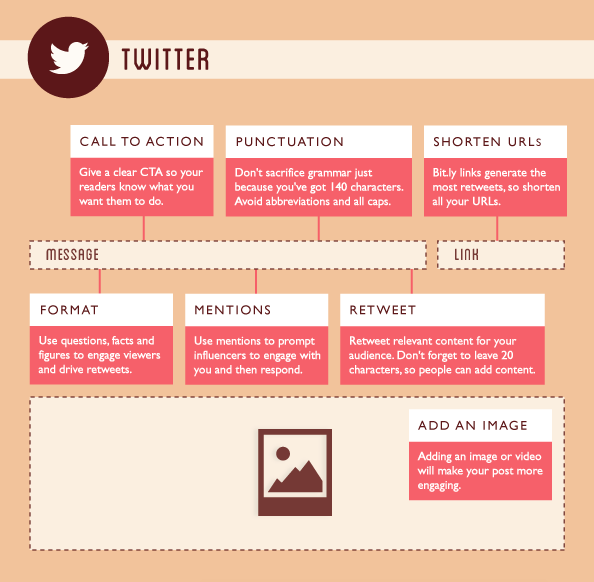 I read the news several times each day, and this is how I kept up with reports of a ship stranded in the Antarctic, far from civilization.
Research shows that it might be good to have more followers than you are following.
High frequency of others retweeting your tweets (good)
High frequency of informational tweets (good)
Too many "broadcast" tweets not directed to anyone particular (bad)
Too much negative sentiment in your tweets (bad)
A detailed profile description or "bio" (good)
Profile has a URL listed (good)
"Burstiness" of your tweets, or the peak rate of tweets-per-hour (good)
High ratio of followers to following; here is the "Golden Ratio." (good)
Lots of tweets with positive sentiment (good)
Cramming too many useless hashtags into your tweets (bad)
Use of long, fancy words (good)
Your tendency to follow-back those who follow you (good)
Profile lists your location (good)
Poor use of grammatical conventions (bad)
Using the default "egg" or a cartoon as your avatar (bad)
Take a look at the best Twitter feeds to follow. Consider following some who will help you cover your beat.
I'd be remiss not to insert my words of caution.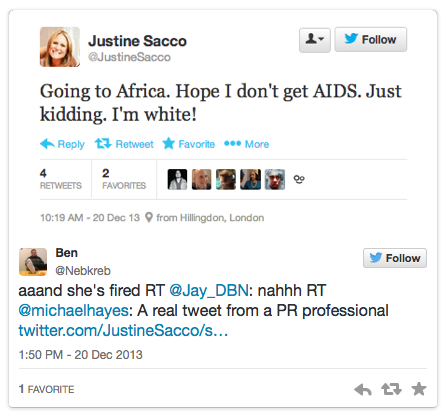 First, don't be Justine Sacco. She worked for the PR firm InterActiveCorp, when she tweeted this "joke" while on a family vacation to Africa. She was fired with 24 hours.
Second, adhere to the Twitter rules from the Associated Press, which requires journalists to refrain from injecting personal opinion in their tweets and retweets. Please form your own opinion on this topic.
Third, please be aware about the debate over retweeting unconfirmed stories (which are synonymous to rumors) as it may ruin your credibility if the story turns out to be untrue. Many journalists lost credibility after they retweeted a story from a fake Twitter account about Piers Morgan. You can phrase your tweets by saying something along the lines of, "X is reporting Y, but we haven't been able to confirm this information yet." Or send a couple of tweets saying: "We are working on this story and will tweet updates as soon as we have them" or "Here's what we do know …"
So now you are ready to tweet your news beat. Here are the best practices you should incorporate when covering your beat. Please also keep in mind the readings for this week as to help you put theory into practice.
Lab Assignments Week Four, Day One:
Twitter is a dominant, powerful reporting app to drive traffic to your blog and to establish a following. As such, each of you will be required to maintain a professional presence on your Twitter feed for the next week. The assignment will begin on Wednesday.
Create a Twitter account as an outpost for your website. If you choose for me to follow you, please begin by following me at @professoraburns
Add a Twitter button, which I will show you how to do in class. One of several methods to add a Twitter button is by navigating to dashboard>>settings>>social media follow buttons. Make certain to set the buttons to look and function properly, and also that the buttons appear on all your pages and posts.
Find 5 new Twitter accounts you want to follow (I suggest that Social Media Today and Mashable should be 2 of the 5 accounts). Share the remaining 3 accounts on a page on your website. Then, on each of these accounts, find what you think is a great tweet. Share it by creating a screenshot then posting the screenshot on your website. Answer these questions about it: What was its main use? Was it creative? Did it generate any comments or shares? Give the page the navigational menu 9.21: Twitter.
Finally, create a new page on your website and share some fun and interesting facts related to your topic. Your word count should be approximately 300 words, so maybe you can achieve this word count by citing 4 fun and interesting facts, or perhaps you might need 10 fun and interesting facts to reach this word count — the choice is yours. Give the page the navigational menu 9.21: Fun Facts.
Lab Assignments Week Four, Day Two:
First, please look at the Twitter assignment, which will begin tomorrow and continue for 10 days.
Today let's focus on your website. Go to your dashboard and create a new page where readers may ask you questions pertinent to your website topic. Thomas Magnum has labeled his page, "Questions?" However, you may use any page name you wish: Q & A, FAQ, Questions and Answers, etc. Add the new page to your menu.
Next, go two classmate's sites and ask him/her a question about his or her website topic. Ask a question in the "comment" area of his/her newly created questions page. The question you ask may could be about anything related to his/her beat. Remember, please ask a question of two classmates; if you see that a classmate already has two questions, then please find another classmate's site.
As comment moderator for your own site, please answer the questions you received about your own beat. Moderate any comments that may have been made.
Lab Assignments Week Five, Day One:
Today, please read an article related to your website topic. Then, offer your own commentary (Op Ed) opinion on the piece. Please label the article 9.28 Op Ed and add it to your drop down navigational menu. Your Op Ed should:
be approximately 300 words.
include a hyperlink to the original article. Please use other hyperlinks as needed.
include picture(s).
Lab Assignments Week Five, Day Two:
Please find a recent hard news event that occurred within the last 24 hours; the event must be relevant to your web site topic. Hard news is news that is usually timely and important regarding a specific event. The story will contain the 5W's and H. Conversely, soft news topics include are not timely. They are more of a "behind the scenes" article. It may not contain the 5W's and H.
Once you have found a hard news event that occurred within the last 24 hours pertinent to your web site topic:
create a new page on your website labeled 9.30 Re-write and add it to your drop down menu.
re-write the article in your own words. Your re-write should be unique (no plagiarism) and cover the 5W's and H. Make sure to give the article a catchy title. Of course, it should go without saying at this point, that your rewrite should contain captioned photos and hyperlinks to outside, additional sources as needed.
make sure you have turned on and allowed others to "Comment" on your newly written article.
post a summary of the event to Twitter, making sure to include the hashtag for our class. Please be sure to include aspects involving the Anatomy of a Proper Tweet (explained earlier in this page). Create a hyperlink in your Tweet to direct followers to your original website article.
Finally, once you have created your own article and tweet, read over other students' posts to see what they wrote in their article and chose to emphasize in their tweet. Respond (on our course website — not twitter) to at least one student's posts with compliments, questions, or concerns about their summary. Include brief but specific reasons for your comments and avoid general responses, such as "great summary!" Discuss what made the summary work or ask a clear question about it.