This semester, whether you know it or not, you have been writing both hard news articles and soft news articles.Now I would like you to focus on writing a feature story. What is a feature story?
A feature story:
is the news behind the news.

is longer than most news stories.

is well researched and complex.

is connected to current events (Why this? Why now?)

covers the subject in depth, includes background, and brings readers up to date.

includes quotations from principle characters, experts—a variety of sources.

may use photographs, charts, graphs, sidebars or boxes, drawings, diagrams, etc.

takes time to interest readers and helps them see the complexity of the story.

brings life and color to the subject.
Varieties of the feature story and examples.
News behind the news (Who are the Taliban? How did they attain power?)

Travel article (hiking the Appalachian trail)

Profile (extended interview: What makes Queen Latifah tick?)

Soft news background story (how school vouchers are working in New York)

Entertainment feature (the making of the film Power Rangers)

Science story (Where is stem-cell research leading us?)

Business feature (Microsoft is changing its corporate structure)
Requirements of a feature story:
Research, background, depth, information from different kinds of sources

Quotations, a variety of perspectives, views of participants and experts

Connection to current events or some other compelling answer to Why This? Why Now?
If you want some examples of feature stories, here are Buzzfeed's feature stories. I encourage you to take a look at them to gain a stronger familiarity of feature stories. If you want to really see creative idea development when thinking of a feature story topic, take a look at one of my favorite feature stories: The Rock Music Guide to NBA Teams.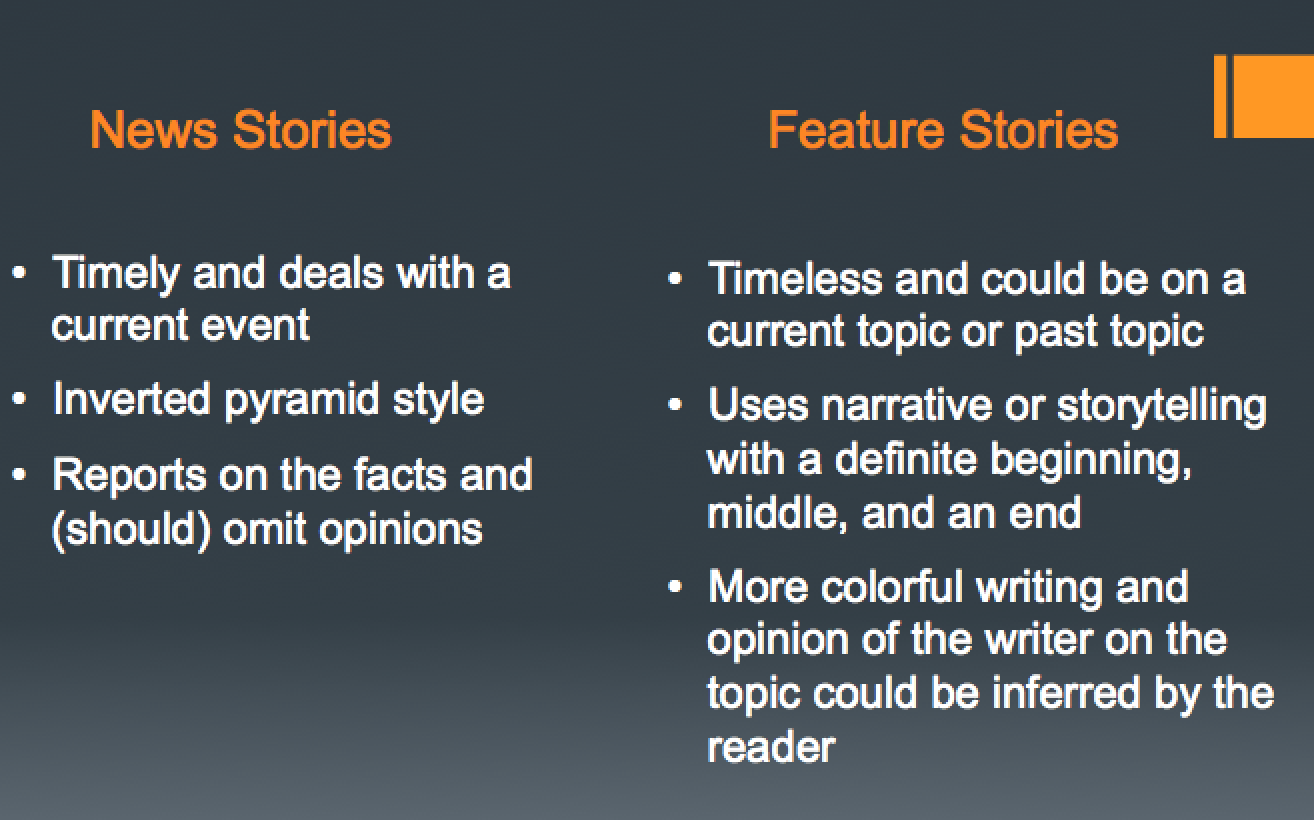 Lab Assignment for Tuesday, November 16, 2021:
Determine a topic for your feature story. Add a new page to your site under your lab work tab titled 11.16 Feature Story Prewrite. Use this new page to create a pitch that tells me about your feature story. You should write the following in your pitch:
Tell me what the feature story's title will be. Make it catchy.

Then tell me about the 5w's and the h (who, what, why, where, when, how) that you will cover in the feature story. One or two sentences for each of these reporters' questions will suffice.

I will look over your work prior to Thursday's class to make sure you are on the proper path before we begin writing the rough draft of the feature story.
Lab Assignment for Tuesday, November 18, 2021:
Today, please compose the rough draft of your feature story. Your feature story must:
be approximately 850 – 1,000. Type the rough draft on a new page, titled 11.18 Rough Draft, and add it to the drop down menu on your class website. Use a catchy title and your approved topic from last class, and begin writing.
contain a video, approximately 30 seconds to 1 minute in length. This video should enhance your story. If you need a tutorial about how to incorporate a video onto your webpage, please let me know.
have paragraphs that are visually appealing and easy to digest for your readers. This will take some creativity on your part since this story will be much longer than the other stories you have written this semester. Consider breaking up the paragraphs with breakouts, pictures, and your video.
Direct traffic from your Twitter, Facebook, and Instagram accounts to your feature story. This is where you should showcase your understanding of new media concepts we've covered this semester.

will you announce ahead of time that the article is coming soon?
will you use a hashtag that will connect all your social media accounts to this feature story?
will your posts cover what we have learned this semester about creating ideal posts in Twitter, Facebook, and Instagram?
Lab Assignment for Tuesday, November 23, 2021:
Now that you have your rough draft in place, please create a final draft of your feature story.
Please add to add it as a menu item (do not place it under your lab work menu), and label it "Feature Story." Of course, the title of your feature story will be catchy, but the navigational title on the menu should be labeled "Feature Story" so I can find it.
Make sure your final draft is polished:
it should be 850 – 1,000 words.
it should contain several pictures with captions. Pictures should be SEO optimized as we discussed earlier this semester.
it should have a video. It does not need to have a specific start time and end time. Make certain you explain the relevance of the video in your feature story.
it should be free of grammatical errors.
it should contain short paragraphs. Since this is a feature story, your paragraphs will be longer than 1 or 2 sentences; paragraphs should be approximately 4-6 sentences.
use headings within the article to delineate sections as needed, making it easier for readers to absorb the content.
promote this story on social media to reflect your understanding of course material.
Be sure to leave your rough draft from last Thursday's class under your Lab Work drop down menu. Thanks!
How To Include a Video that Starts and Ends at Specific Times
If you have found a video, but it is too long for the feature story, you can enter an HTML code into WordPress so your video starts and ends at a specified interval of your choosing. First, watch the video at the bottom of this page; second, cut and paste the yellow highlighted portion of code below onto your webpage (it should make sense after you watch the video).
<figure><iframe src="https://www.youtube.com/embed/BYmgLO16ul0?start=15&end=18" allow="accelerometer; autoplay; encrypted-media; gyroscope; picture-in-picture" allowfullscreen="" width="560″ height="315″ frameborder="0″></iframe></figure>
Here is a list of websites on which this code should work, but if you encounter any problems, please let me know.
DailyMotion
Facebook
Flickr
Giphy
Hulu
Instagram
SoundCloud
Spotify
TED
Tumblr
Twitter
Vimeo
Vine
YouTube