Don't Just Stop with Planning!
I know this has nothing to do with planners, but this blog is about organization too…right? For probably ever, my mom and I have lived out of our linen closet as our makeup closet. We went through the keeping-our-makeup-in-bags phase, the keeping-our-makeup-in-bins phase, the keeping-our-makeup-in-anything-it-will-fit-in phase. We needed a serious upgrade.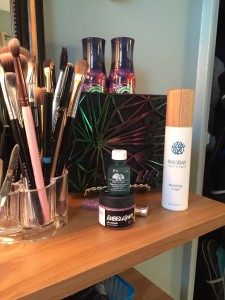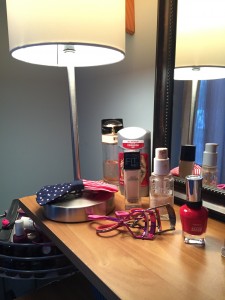 After looking on Bed, Bath, & Beyond for what felt like months, we finally found a makeup table that was small enough to fit the room. We went and they said they didn't have it…like ever. It was just a ploy to get people shopping. So not fair. So we hit the drawing board again…this time with Pinterest.
Because the room we're using is pretty tiny, we couldn't get anything too big. So we looked up "small makeup room" and found just the trick. Shelving! How crazy.
The next day, my mom and I went up to Lowe's and picked two shelves, a couple brackets, a mirror, and some bins. And voila! We had a super awesome makeup wall that held everything we needed!
Here's my set up: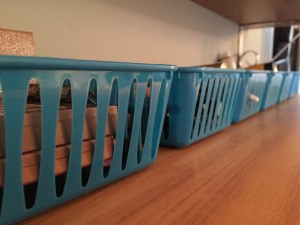 With just 2 shelves, my mom and I were able to fit everything we owned in terms of makeup. On the top shelf, we put things we use everyday, like makeup pallets, foundation, moisturizers, brushes, perfume, and deodorants.
On the second level, we picked up 6 little baskets from the dollar store and they each have their own purpose:
Everyday make up – bronzer, blushes, illuminators, and eyebrow filler
Eyes – (mostly) mascara, eyeliner, eye shadows
Lips – chapstick and a plethora of lipsticks and samples (Birch Box and Ipsy for the win!)
Face – liquid illuminators, liquid bronzers, anti-aging (majority are samples from Birch Box and Ipsy that I don't use but seem useful)
Hair – heat protectant, dry shampoo, split-end erasers
Etc – any leftovers or items that don't have a particular spot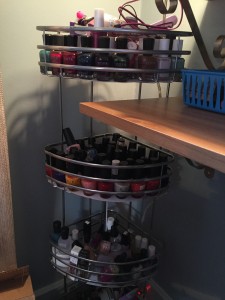 Now I can't forget all my nail polish. I'm obsessed with nail polish. Sunday night in my nail night and it's almost ritualistic at this point. My friend comes over, we do our nails, and then we watch Quantico. Amazing show…you should watch it.
You're also probably thinking: WOW that's a lot of polish. Well…that's not all of it. I have a shelf in my closet that holds all my Julep polishes. Oops!
If you're trying to decorate a small room, think outside the box. You never know what you can come up with. It may be better than you're expecting, as well.
Happy Organizing!